Meetings from € 16.95 per person
Are you looking for a location for your business meeting, congress, meeting, reception, training or an overnight stay in the center of the city of Groningen? Best Western Hotel Groningen Center offers all possibilities for this. And much cheaper than you think. For example, you can organize a meeting of ten people in the evenings from € 16.95 per person.
You can read all about it on our special meeting website.
Information and reservations
We would be happy to discuss your business requirements with you. Call 050 524 8016 or email reservations@hotelgroningencentre.nl.
Available by phone between 9 a.m. and 5 p.m.;
Immediate expert help;
Instant quote;
Advantageous contract agreements.
The place for business events, meetings & parties
This location offers a wide range of facilities to meet different needs. Four meeting rooms are available, along with audiovisual equipment and free Wi-Fi. Guests can enjoy a meal at the restaurant and benefit from free parking. The location is also ideally located within walking distance of the Grote Markt and offers overnight accommodation for guests who wish to stay longer.
4 meeting rooms

Restaurant

Walking distance from the Grote Markt

Free parking

Possibility to stay overnight

Free WIFI

Audiovisual equipment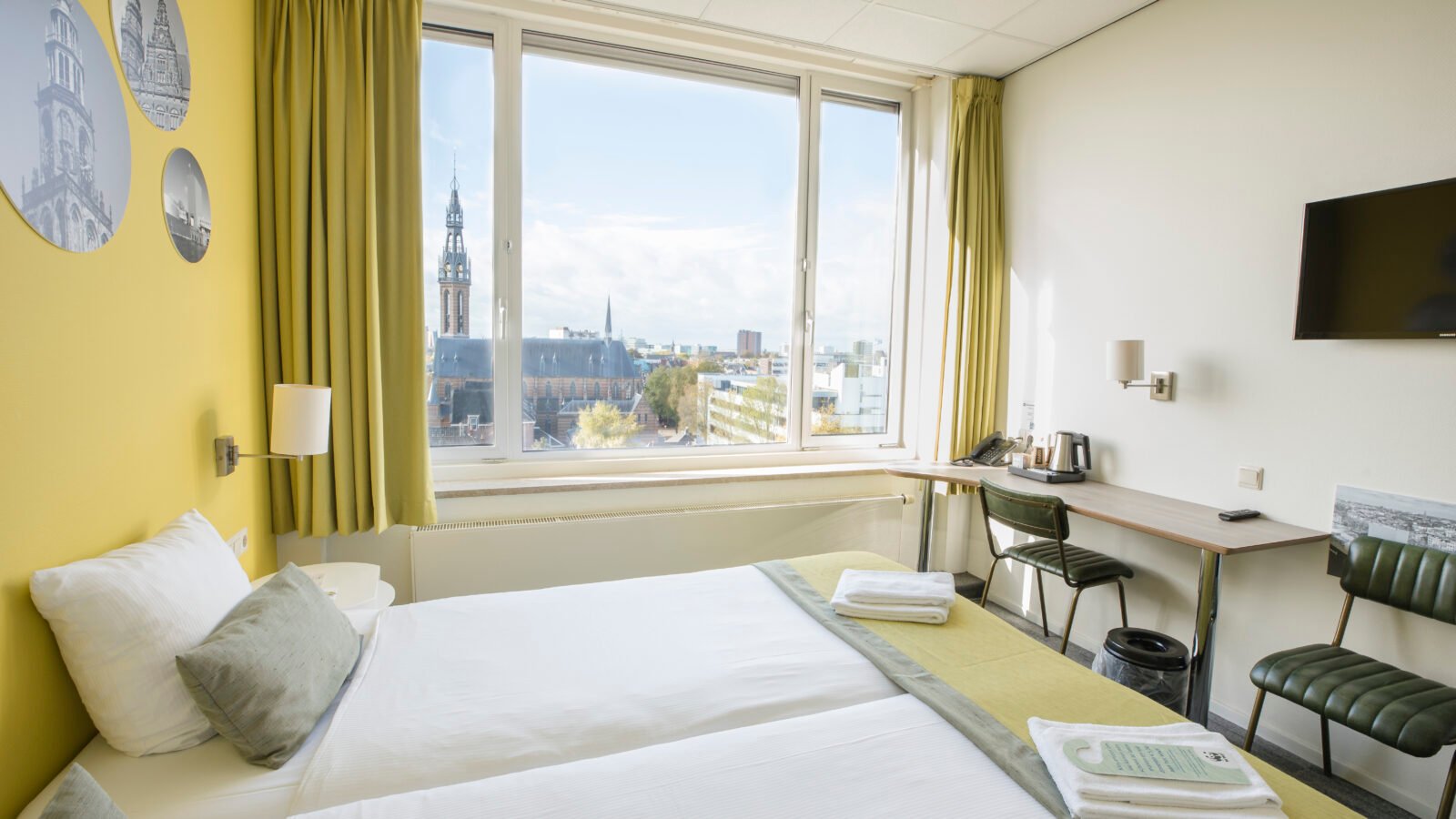 Spending the night after your meeting?
After your meeting you can relax in the bar or lounge of the hotel, enjoy a delicious dinner in the restaurant or use the fitness room to complete your day. With an extensive breakfast buffet to start the day well.
Bekijk onze kamers
Frequently Asked Questions
Is there parking at the hotel?
We have our own parking garage under the hotel. If you come by car or motorcycle, we recommend booking a place in advance.
Is it possible to charge electric vehicles?
You can! We have several charging stations in the parking lot.
Why are you called Flonk now?
We are Flonk Hotels. Flonk is the Groningen word for lively. Exactly the value that suits us. It is the drive we use to make your stay or collaboration a success. From valet parking to renting a boat, your favorite food on the table to a meeting room decorated on your theme. Our own hotel concept that gives us the freedom to determine how we work. Being able to go that extra mile and surprise you. Suitable for you because we know you and know what makes you happy. A stay with a golden edge. That's what we're going for. That's what gives us energy. With Groningen sobriety we bring Flonk into your life.